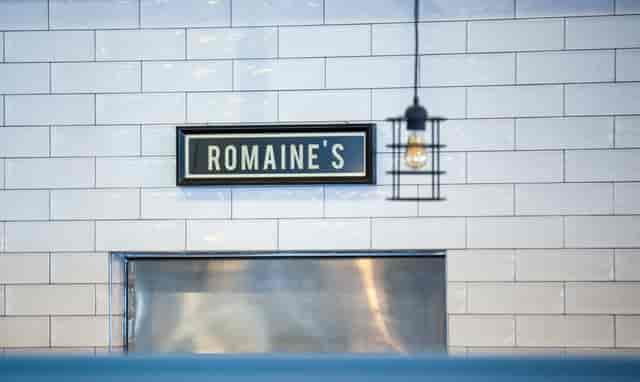 Dinner & Beverage
Become a VIP
Receive updates on special events, new menu items, menu reviews, and more!
Dinner & Beverage
SUPPER
GF states gluten-free item or can be modified gluten-free. Please inform your server of any allergies. 
All fried items are cooked in oils with gluten products.
0% ABV BEVERAGES
CRANBERRY COOLER| 4
CUCUMBER HONEY MULE| 5
LEMON PINEAPPLE BREEZE| 5
FAUXJITO| 4
BEERS
BOTTLED BEER
Budweiser | 3.75
Bud Light | 3.75
Landshark | 3.75
Michelob Ultra | 4
O'doul's "Non-Alcoholic" | 3.75
Down East Cider | 7.5
DRAFT MICRO BEER
We feature ten rotating taps of micro beers. Please inquire with your server for our list.
BEER FLIGHT
choose four | 9
WINES
WHITE
SAUVIGNON BLANC, Oyster Bay {Marlborough, NZ} | 9/34
SAUVIGNON BLANC, St. Supery {Napa} | 11/42
SAUVIGNON BLANC, Frogs Leap {Napa} | 54
PINOT GRIGIO, Lagaria {Venezia} | 9/34
PINOT GRIGIO, Santa Margherita {Alto Adige} | 58
CHARDONNAY, Rodney Strong {Sonoma} | 10/38
CHARDONNAY, La Crema {Sonoma} | 12/46
CHARDONNAY, William Hill {Central Coast} | 34
CHARDONNAY, Rombauer Vineyards {Carneros} | 70
CHARDONNAY, Stag's Leap Karia {Napa} | 68
ROSE, Rodney Strong {Sonoma} | 12/46
RIESLING, Saint M. {Washington} | 10/46
RIESLING, Dr. Hermann {Mosel, Germany} | 12/46
MOSCATO, ViNO CasaSmith, {Washington} | 10/38
SPARKLING
LAMARCA, Prosecco {Italy} | 11
SEGURA VIUDAS, Brut Reserva {Spain} | 9/34
DOMAINE, CHANDON, Brut {California} | 70
VEUVE CLICQUOT, Brut {Reims} | 110
RED
PINOT NOIR, Castle Rock {California} | 9/34
PINOT NOIR, Meiomi {Monterey County, CA} | 11/42
PINOT NOIR, Smoke Tree {Sonoma, CA} | 12/45
PINOT NOIR, Elk Cove {Willamette Valley, OR} | 55
VALPOLICELLA, "La Roverina" Speri {Veneto} | 48
BAROLO, Stefano Farina {Piedmont} | 75
ZINFANDEL, Klinkerbrick "Old Vine" {Lodi, CA} | 12/46
ZINFANDEL, Bear Flag {Sonoma, CA} | 14/54
ZINFANDEL, Rombauer {Napa, CA} | 50
MALBEC, Colores del Sol {Argentina} | 9/34
MALBEC, Reserva, Luigi Bosca {Lujan de Cuyo, Argentina} | 42
MERLOT, Columbia {Washington} | 10/38
MERLOT, Frog's Leap {Napa, CA} | 54
CABERNET, Rodney Strong {Sonoma, CA} | 10/38
CABERNET, Duckhorn "Decoy" {Sonoma, CA} | 12/46
CABERNET, Quilt {Napa, CA} | 15/58
CABERNET, Hess "Allomi Vineyard" {Napa, CA} | 60
CABERNET, Buehler {Napa, CA} | 62
CABERNET, Stag's Leap Wine Cellars Artemis {Napa, CA} | 110
CABERNET, Shafer One Point Five {Stag's Leap District} | 125